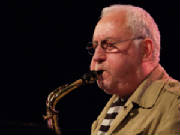 Alto Saxophonist Lee Konitz has enjoyed one of the most creative and
prolific careers in modern jazz. After an early experience with the
Claude Thornhill Orchestra and Stan Kenton's Orchestra,
the innovative small groups of pianist Lennie Tristano, and the Miles Davis
Capitol Orchestra ("Birth of the Cool"), Konitz turned freelance and has remained on the cutting
edge of post-bop improvisation for the rest of his life.

He occasionally led a nonet and various trios, quartets, quintets,
and his exceptionally large and varied discography that streches over 70 years also includes
several saxophone solo albums, innovative albums of duets and larger forms
that spanned jazz styles, and collaborations which reads like the "who's who"
of the Jazz world.
Like Gil Evans or Coleman Hawkins Lee has always been open and interested to play
with younger musicans and to participate in exciting new musical projects co-lead
by them (like the Lee Konitz New Nonet or the Lee Konitz-Ohad Talmor String Project).
A book about Lee Konitz (by Andy Hamilton) was published in 2007. He has received the NEA Jazz Masters Award in 2009.
Lee was voted "Alto Saxophonist of the Year" by Downbeat Magazine Critics Poll in 2010 and numerous times before that. In July 2013 he was awarded the "German Jazz Prize" for
his life in music.
Lee Konitz passed away on April 15, 2020 in New York City.
SELECTED
DISCOGRAPHY:
Birth of the Cool (with Miles Davis) Capitol Records 1949/50
Subconscious-Lee, Prestige Records 1949
Sax of a Kind - Live in Sweden, Dragon Records 1951
Free Forms (with Ralph Burns) Verve Records 1951
Ezz-Thetic (with Miles Davis) Prestige Records 1951

Requiem (with Lennie Tristano) Atlantic Records 1955
Lee Konitz and Warne Marsh, Atlantic Records 1956
The Real Lee Konitz, Atlantic Records 1957
Lee Konitz With String "An Image" Verve Records 1958
Lee Konitz Meets Jimmy Giuffre, Verve Records 1959
Lee Konitz "Very Cool" and "Tranquility", Verve Records 1959

Lee Konitz "Live at the Half Note", Verve Records 1959
Lee Konitz "Motion" with Elvin Jones, Sonny Dallas, Verve Records 1961
The Lee Konitz Duets, Milestone Records 1967
Stereokonitz, RCA LP OLS 2, 1969
Spirits (with Sal Mosca) Milestone Records 1971
Lee Konitz Solo "Lone-Lee", Steeplechase Records 1974
Lee Konitz & Red Mitchell Duo, Steeplechase Records 1974
Lee Konitz Nonet, Chiaroscuro Records 1977
Heroes/Anti Heroes (with Gil Evans) Verve 1980
In Concert (with Chet Baker) India Navigation Records 1982
Dovetail (with Harold Danko/Jay Leonhart) Sunny Side Records 1983
Art of the Duo (with Albert Mangelsdorff) Enja Records 1989
Rhapsody 1 & 2, Paddle Wheel Records 1993/94
Three Guys (with Steve Swallow/Paul Motian) Enja Records 1999
Lee Konitz (with Brad Mehldau and Charlie Haden), Blue Note Records 1997
Sounds of Surprise (Lee Konitz Trio plus one) RCA Victor 1999
Lee Konitz-Ohad Talmor & Axis String Quartet, Palmetto Records 2000
Lee Konitz & Matt Wilson, Gong With The Wind, Steeple Chase 2002
Lee Konitz New Nonet (directed by Ohad Talmor), Omnitone Records 2006
Lee Konitz-Ohad Talmor String Project, Inventions, Omnitone Records 2006
Lee Konitz Big Band/Orquestra Jazz Matosinhos, Portology, Omnitone Records 2006
Lee Konitz & Walter Lang, Ashiya, Pirouet Records 2007
Lee Konitz & Minsarah, Deep Lee, Enja Records 2008
Dan Tepfer "Duos with Lee", Sunnyside 2009
Lee Konitz New Quartet "Live at the Village Vanguard", Enja Records 2010
Konitz/Mehldau/Haden/Motian "Live at Birdland", ECM Records 2011
Konitz/Frisell/Peacock/Baron "Live at the Blue Note" Half Note 2012
Lee Konitz/Dan Tepfer/Michael Janisch/Jeff Williams "First Meeting - Live in London" Whirlwind Recordings 2014
Lee Konitz "Standards Live - At the Village Vanguard", Enja Records 2014
Lee Konitz Quartet "Frescalalto" Impulse! 2017
Lee Konitz/Dan Tepfer "Decade" Verve 2018
Lee Konitz Nonet (directed by Ohad Talmor) "Old Songs New", Sunnyside Records, 2019